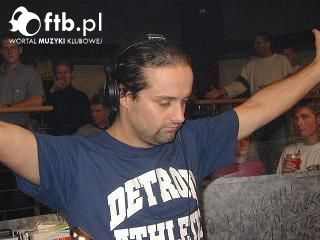 W roku 1991 Alex Christensen człowiek stojący pod nazwą U96 wraz z Klaus'em Doldinger'em stworzyli utwór do filmu o tej samie nazwie "Das Boot".Klaus napisał utwór zaś Alex był jego producentem.Kawałek podbił takie europejskie kraje jak: Norwegie, Anglię, Danię, Szwecje, Francje, Holandie, Belgie czy też Finlandię.
Na początku 1993 U96 wydał pierwszy album "Das Boot".Kolejnym utworem na tym albumie był numer "I Wanna Be A Kennedy",który w pewnych momentach przypominał hit z lat '80 "Fade To Gary" Vegas.Album został wyprodukowany przez Matiz i AC16(wyprodukowali oni wszystkie albumy U96).
W 1993 ukazał sie kolejny album zatytułowany "Replugged".Pierwszym hitem z tej płyty był wspaniały numer Techno "Love Sees No Colour".Cały album był w wiekszości nagrywany we Francji(w Paryżu),komponowali i pisali w większości Francuscy artyści:Lagonda,Castioni,Wycombe,Ac Beat i album wyprodukowali ci sami ludzie co porzedni "Das Boot".Obydwaj producenci współpracowali z takimi gwiazdami jak:DianaRoss,ArethaFranklin,Jean-Michel Jarre.
W między czasie Alex zajął sie produkcja i komponowaniem piosenek dla innych artystów tj.:Prince Ital Joe i ex-"New Kids On The Block" Marky Mark.
"Replugged" był dobrym albumem,ale "Club Bizzare" wydany w 1995 roku wniósł wiele zmian do muzyki Euro-Dance.
Rok 1995 jaki '96 był dla Alexa Christensen'a rokiem wielu zmian.Do U96 dołączyła DEA-Le (Dorothy Lapi) tancerka i choreograf.
24-tego maja '96 U96 wydało nowy album pod nazwą "Heaven" już przy współpracy z DEA-Li.
Rok później po wydaniu albumu w maju '97 został wypuszczony nowy singiel "Seven Wonders" na którym zagościł nowy wokal-Nicky.
Albumy:
Das Boot(1992)
Tracklista:
Das Boot
Come 2 Gether
Der Kommandant
No Control
Art of U96
I Wanna Be A Kennedy
Ambient Underworld
Sportly Animal-Loving Extravert
Sonar Sequences
Bonus:
Das Boot(Klassik Version)
Replugged(1993)
Tracklista:
War Of The Worlds
Love Sees No Colour
Young Girls
Night In Motion
The Rainbow Factor
You Make Me Wonder
Theme from "Replugged" Pt.I,Pt.II
Je suis selected
Feel Like A Dum Dum
The One Russian
Brainkiller
Without You
Club Bizzare(1995)
Trackista:
Club Bizarre
Jack
Love Religion
Die Mission
Movin'
If Looks Could Kill
Joy
Boot II
Dark Room Rituals
Heaven(1996)
Tracklista:
Heaven
Are You Ready?(Space Symphony)
A Night To Remember
Venus In Chains
Drag Queen
Try
Love Generation
1-900-LOVE
Heartline/Lifeline
Life In Paradise
Anthem
Best Off 1991-2001(2000)
Tracklista:
Das Boot
Underwater
Heaven
Club Bizarre
Love Religion
A Night To Remember
Inside Your Dreams
Love Sees No Colour
Night In Motion
Energie
I Wanna Be A Keneddy
Venus In Chains
Seven Wonders
Rythm Of Life
Lost Paradise
Love Generation
Live At Electrogorsk
Boot II
Single:
Das Boot(1991)
Tracklista:
Das Boot (Techno-Version)
Das Boot (Ecstasy On Board-Version)
Das Boot (Echo Mix)
Das Boot (Speed Version)
I Wanna Be A Keneddy(1992)
Tracklista:
I Wanna Be A Keneddy(US Mix)
I Wanna Be A Keneddy(Patsy Remix)
Come 2 Gether(1992)
Tracklista:
Come 2 Gether
Der Kommadant
Im Electroland
Night In Motion(1993)
Tracklista:
Night In Motion (12″ Version)
Night In Motion (Instrumental)
Night In Motion (70's Mix)
Love Sees No Colour(1993)
Tracklista:
Love Sees No Colour (Version 2)
Love Sees No Colour (Version 1)
Love Sees No Colour (Bass Bumpers Mix)
Love Sees No Colour (House Mix)
Love Sees No Colour (Radio Edit)
Love Sees No Colour (Version 1)
Love Sees No Colour (Version 2)
The Pop Crisis (Original)
Love Sees No Colour remixed by Bass Bumpers(1993)
Tracklista:
Love Sees No Colour (Bass Bumpers Remix)
Love Sees No Colour (House Mix)
Love Sees No Colour (Version 1 Instrumental)
Love Religion(1994)
Tracklista:
Love Religion (E-vangelista Mix)
Love Religion (Instrumental)
Love Religion (Vaticano Mix)
Inside Your Dreams(1994)
Tracklista:
Inside Your Dreams (Video Version)
Inside Your Dreams (Phase 1)
Inside Your Dreams (Phase 2)
Club Bizarre Remix(1995)
Tracklista:
Club Bizarre (Mandala Remix)
Club Bizarre (Perplexer Remix)
Club Bizarre (Tom & Norman Remix)
Club Bizarre (Steve Baltes Remix)
Movin'(1995)
Tracklista:
Movin'
Movin'(Elka Ext.Mix)
Movin'(Instrumental Version)
Jack
Heaven(1996)
Tracklista:
Heaven (Radio Version)
Heaven (French Kiss Version)
Heaven(Remixes)(1996)
Tracklista:
Heaven (Db 600 Remix)
Heaven (Raver´s Nature Remix)
Heaven (George Marel Remix)
A Night To Remember(1996)
Tracklista:
A Night To Remember (Video Edit)"
A Night To Remember (12″ Mix) "
A Night To Remember (Bass Bumpers Mix)
Anthem
A Night To Remember(Remixes)(1996)
Tracklista:
A Night To Remember (Remixed by Db 600)
A Night To Remember (Remixed by Minuteman)
A Night To Remember (Remixed by Brainbox)
A Night To Remember (Remixed by Db 600)
Venus In Chains(1996)
Tracklista:
Venus In Chains (Video Mix)
Venus In Chains (In Chains Remix)
Venus In Chains (Bass Bumpers Remix)
1-900-Love
Seven Wonders(1997)
Tracklista:
Seven Wonders (Seven Inch Mix)
Seven Wonders (Seven Sins Mix)
Seven Wonders II (Seven To Seven Mix)
Seven Wonders II (Over Seven Mins Mix)
Seven Wonders-Remix(1997)
Tracklista:
Seven Wonders – DJ Errik Remix
Seven Wonders – Jaspa Jones Remix
Seven Wonders – Slaughterhouse Remix
Seven Wonders – Slaughterhouse Instrumental Remix
Energie(1998)
Tracklista:
Energie – Video Mix
Energie – Hang The DJ Mix
Energie – U 96 + 4 = U 2000 Mix
In Your Mind
Beweg Dich,Baby(1998)
Tracklista:
Beweg Dich,Baby(Deutsch)
Beweg Dich,Baby(English)
Beweg Dich,Baby
Don't Wanna Lose You
Das Boot 2001(2000)
Tracklista:
Das Boot 2001(Radio Edit)
Das Boot 2001(DJ Mellow-d Remix)
Das Boot 2001(Cosmic Gate Remix)
Anthem 2001