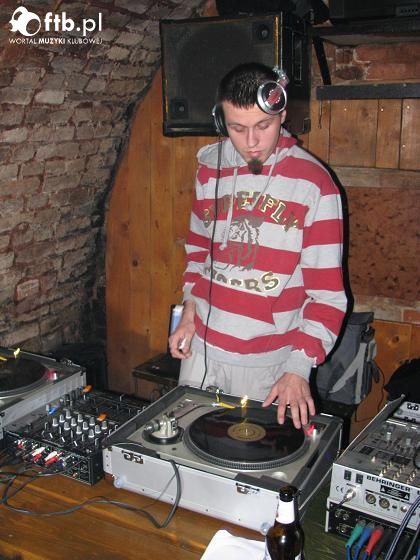 www:
http://www.dj.kox.pl
DJ_KoX : [TECHNO SESSION] , [PANIC GROOVE REC] He was born in Cracow on the 17th of January in 1985.
already, at young age he played at the prestigious party – Techno Session.
W played on Soundtropolis 2005 prepared Mayday Poland Team.
During his Deejay career he had the opportunity to play along with some famous polish Deejays in the most of Cracow's clubs.
This Year he plans to record some of his own tracks and start his own techno music production.
His famous foreign Deejays are : Marco Bailey,Valentino Kanzyani,Chris Liebing,Redhead,Tom Hades,Rush,Umek…and any others.
He performed with such Deejays as :
Electro One
Mike Del Saar
Art.Extreme
Diana'd'Rouz
Angelo Mike
Radan Just (Czech Reublic)
Djeda Lebeda (Czech Reublic)
Lex (Usa)
Gogo
Siasia
Quest
Sick
Johny
Kay-Tech
Whisepr
Roach
Mackul
Miss Acrae
Eco
Pablo
Maq
Max3House
Axel Cruiser
White
Luke
Lukash Andego
Came Lee
Simon Jim
Drzazger
Voll
Inch
Toxic
Miss Toxi
Narg
Hal bregg
Xavier noise
Oley
Witoch
SoulVibe
Rebeat
And many more…He also played on-air..
His prefered styles are : Techno Groove,Pumping,Latino,Tribal…
He belongs and acts in the Booking Agency – Techno Session dj KoX is also able to cooperate with known producers and deeyas from famous lables like :
MARCO BAILEY [Pornographics Rec.][MB Elektronics][Rhythm Convert] _ Belgium AXEL KARAKASIS [Pornographics Rec.][MB Elektronics][Rhythm Convert] _ Greece TOM HADES [Pornographics Rec.][MB Elektronics][Rhythm Convert] _ Belgium CAVE [Primate Rec.][SPILO] _ Norway ELECTRO ONE [MB Elektronics][Pornographic Rec][Rhythm Convert][Panic Groove Rec.] _ Poland MIKE DEL SAAR [Panic Groove Rec.][Techno Session] _ Poland and other…More info on :
www.techno.session.prv.pl
Preferred Labels : Pornographic Rec,Intec Records,Rhythm Convert,Zync Grooves,Session Recordings,MB Elektronics,MB Selektions ,Lupp Rec,Panic Groove.