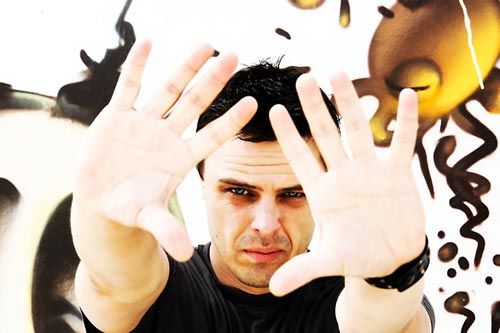 www:
http://www.markusschulz.com/
Markus Schulz urodził się w Niemczech, a w wieku lat 13 wyemigrował do Stanów Zjednoczonych. Z muzyką elektroniczną Markus spotkał się po raz pierwszy jako nastolatek, zainteresowanie to zaowocowało później karierą dj'a. Najpierw był rezydentem klubu "The Works" w Phoenix, prowadził audycję radiową "Edge Factor", a wspólnie z C.L. McSpadden stworzył wytwórnię "Plastik Records".
Markus wciąż poszukiwał definicji muzyki, która potrafiłaby go zainspirować. W końcu postanowił wyjechać do Londynu. Adres jego studia w Brixton to Coldharbour Lane, fani Markusa wiedzą, że jest to adres który dał nazwę wytwórni Markusa – Coldharbour Recordings. Te dwa lata spędzone w Anglii były rozstrzygające dla kariery Markusa.
Markus powrócił do Stanów, postanowił jednak osiąść ze swoją rodziną w Miami na Florydzie, ze względu na jej ciepły klimat. Pierwszy przełom w karierze wiązał się z nawiązaniem kontaktu z holenderskim dj'em Arminem Van Buurenem, który to wykorzystał utwór Markusa "You Won't See Me Cry" na swojej kompilacji "Boundaries of Imagination".
W 2002 roku radio Party 93.1 z Miami wystawiło jako swojego reprezentanta na Winter Music Conference właśnie Markusa Schulza. Dwa miesiące później zaproponowano mu prowadzenie własnego show na antenie radia, w którym mógł zaprezentować wszystkim swój niebywały talent. I w ten właśnie sposób narodziła się audycja Global DJ Broadcast.
Przyjaźń z Arminem zaowocowała współpracą między tymi dwoma artystami. Markus został zaproszony do współpracy z labelem "Armada", należącym do Armina. Pozwoliło to Markusowi na udział w wielu festiwalach oraz występy w najlepszych klubach, które zapraszały Armadę.
W 2003 roku Markus wydał utwór "Clear Blue". Spotkał się on z ogromnym odzewem i pozwolił Markusowi zabłysnąć w świecie producentów muzyki klubowej. Ten bardzo unikalny styl jaki prezentuje w nim artysta, to ani progressive trance ani też właściwy trance, ale coś rozmytego pomiędzy.
W 2005 roku powstało dziecko Armady, label Coldharbour Recordings, w którym Markus mógł wydawać swoje ulubione utwory. Oprócz tego, po dwóch latach ciężkiej pracy, światło dzienne ujrzał wyczekiwany przez fanów Markusa debiutancki album "Without You Near", który był następnym znaczącym krokiem w karierze tego artysty.
Rok 2006 to dla Markusa Schulza rok pełen podróży, od Australii do Rosji, od Chin do Trynidadu. Lato to wspaniałe wakacje na Ibizie, gdzie w klubie Amnesia wystąpił jako rezydent. Zaproszony został na takie festiwale i imprezy jak: Tomorrowland w Belgii, Mysteryland i Trance Energy w Holandii, Nature One w Niemczech, pojawił się również w klubach w Kuala Lumpur, Rumunii, Czechach, Meksyku, Szwecji, Finlandii, na Węgrzech, Słowacji, w Wielkiej Brytanii i wielu innych miejscach na świecie.
Audycja radiowa Markusa, Global Dj Broadcast, nadawana jest w ponad 30 stacjach radiowych na całym świecie. Jego wizyta na Ibizie zaowocowała specjalnymi wydaniami GDJB podczas wakacji, które nosiły tytuł Ibiza Summer Sessions. Aby słuchacze mogli przenieść się choć na chwilę na Ibizę, Markus zapraszał co tydzień najbardziej znanych artystów i raczył nas gorącymi rytmami muzyki z Balearów.
Oprócz triumfów jakie święci jego audycja, Markus ma jeszcze jeden powód do zadowolenia. Wydał on swoją najnowszą kompilację "Ibiza 06". Markusowi udało się znakomicie oddać wspaniałą atmosferę, jaka panuje w lecie na Ibizie. "Chciałem dać moim słuchaczom uczucie, jakby byli na Ibizie razem ze mną" – mówi Markus – "Ibiza to naprawdę magiczne miejsce dla mnie, mam z nią związanych tyle wspaniałych wspomnień, na swojej płycie chciałem je wszystkie uchwycić"
Dyskografia:
Albumy:
Without You Near; Label: Armada
Wydawnictwa Markusa:
Electro Hairspray/First time; Label: Couldharbour Recordings
Without You Near (feat. Departure and Gabriel & Dresden); Couldharbour Recordings
Kompilacje:
Shikodashi; Label: Safari Media
Trance Pioneers 4 (4 CD set); Label: Rumour Records
American DJ Volume 4 Phoenix; Label: Capitol
Coldharbour Sessions 2004 Label: Armada
Miami '05; Label: Armada
Ibiza '06; Label: Armada
Remiksy:
· Aaron Lazarus – Your time will come (Markus Schulz remix)
· Aly & Fila – Spirit of Ka (Markus Schulz Remix)
· Jose Amnesia vs. Shawn Mitiska – My All (Markus Schulz Remix)
· Backstreet Boys – We've got it goin' on (Marcus'deadly vocal mix)
· Billy Paul Williams – So in love (Markus Schulz "Sunset on South Beach" remix)
· Book of love – I touch roses (Markus Schulz dark rose instrumental)
· Book of love – I touch roses (Markus Schulz dark rose remix)
· Booka Shade – Night Falls (Markus Schulz Remix)
· Daniel Ash – Burning man (Markus Schulz remix)
· Delerium – Innocente (Markus Schulz Remix)
· Departure – She turns (Markus Schulz remix)
· Depeche Mode – I feel loved (Markus Schulz remix)
· Devone – Energy (Markus Schulz remix)
· Paul van Dyk – Connected (Markus Schulz reconstruction mix)
· Everything but the girl – Lullaby of clubland (Markus Schulz renaissance vocal)
· Everything but the girl – Lullaby of clubland (Markus Schulz virus mix)
· Fatboy Slim – Sunset (Bird of pray) (Markus Schulz remix
· Pablo Gardano – Absolution (Markus Schulz remix)
· Pablo Gargano – Eurogoal (Markus Schulz remix)
· Groove junkies – Everybody needs to be loved (The vocal yourney edit)
· Himmel – Celebrate Life (Markus Schulz Remix)
· Himmel – Celebrate life (Markus Schulz renaissance remix)
· James Holden – A break in the clouds (Markus Schulz reconstruction mix)
· Jewel – Stand (Markus Schulz club mix)
· Luzon – Manilla sunrise (Markus Schulz remix)
· Marco V – False Light (Markus Schulz Bootleg Mix)
· Markus Schulz – Electro Hairspray (Markus Schulz Dub)
· Miami Sunset (Markus Schulz remix) Based on: Fauré – Pavane
· Carissa Mondavi – Solid Ground (Markus Schulz Tribal Mix)
· Myth – Millionfold (Markus Schulz remix)
· Piece Process- Solar myth (Markus Schulz mix)
· Plastic Angel – Distorted Reality (Markus Schulz Remix)
· PQM feat. Cica – The flying song (Markus Schulz remix)
· Rouge – Jingalay (Markus Schulz remix)
· Sipping Soma – Superconscious (Markus Schulz remix)
· Solid Globe – Sahara (Markus Schulz remix)
· Solid Ground – Carrisa mondavi (Markus Schulz tribal mix)
· Télépopmusik – Breathe (Markus Schulz remix)
· Truce – Pump It (Markus' tribal mix)
· Whirlpool – Under the sun (Markus Schulz remix)
· Yoshimoto – Du What U Du (Markus Schulz Remix)
Mushup/Reconstructions:
2003
· Classified Project – Starlight Chaser (Markus Schulz Reconstruction)
· Dave Gahan – Dirty Sticky Cool (Markus Schulz Reconstruction)
· Depeche Mode – Only When I Lose Myself (Lexicon Avenue Remix / Markus Schulz & Elevation Reconstruction)
· Paul Van Dyk – Connected (Markus Schulz Reconstruction)
· Roland Klinkenberg vs. Holden & Thompson – Bounce @ Nothing (Markus Schulz Reconstruction)
· Limp Bizkit – Behind Blue Eyes (Trifactor Blue Room Remix / Markus Schulz Edit)
· Sworn – Treatment Declined (Demented Mix / Markus Schulz Edit)
2004
· BT vs. Sasha – Remember Magnetic North
· Envio – Time To Say Goodbye (Arksun Filmscape Mix) w/ Solar Stone – Solarcoaster (Acappella)
2005
· Redanka – Waves (King Unique Remix / Markus Schulz Reconstruction)
· Andy Moor – Halcyon vs. Ogzur Can Featuring Nick Beman – Not Even Winds (Markus Schulz Mashup)
· RR Workshop – Electrolux w/ Ridgewalkers Featuring El – Find (Acappella)
· Delerium vs. Ernesto vs. Bastian – Silent Side of the Moon (Markus Schulz Mashup)
· Paragliders – Intra Rouge vs. Niklas Harding Presents Arcane – Ice Beach (Markus Schulz Mashup)
· RR Workshop – Electrolux w/ Ridgewalkers Featuring El – Find (Acappella) & Deep Dish – Say Hello (Acappella)
· Derek Howell – Gasoline Fight vs. Armin Van Buuren Featuring Gabriel & Dresden – Zocalo (Markus Schulz Mashup)
· Mode Hookers – Breathe (Instrumental Mix) vs. Niklas Harding Presents Arcane – Ice Beach (Markus Schulz Mashup)
· Alex Stealthy – Able To Forget vs. Niyaz – Dilruba (Junkie XL Remix) vs. Synergy – Hello Strings (Markus Schulz Mashup)
· Andrew Bennett – Heaven Sent vs. Max Graham – Automatic Weapon (Markus Schulz Mashup)
· Spekuless Presents Kenneth Tjonasam – Curacao vs. Markus Schulz Presents Elevation – Largo (Markus Schulz Mashup)
· Junkie XL – Today (U.N.K.L.E. Remix) vs. LNQ – People I Used To Know (Markus Schulz Mashup)
· Three Drives – Greece 2000 (Miro Vocal Version / Markus Schulz Reconstruction)
· Sasha & Maria – Be As One (Markus Schulz Reconstruction)
· Lustral – Everytime (Nalin & Kane Remix) vs. Sasha – Xpander (Markus Schulz Mashup)
2006
· Rob Mooney – Feelin' Electro (Valentino Kanzyani Remix / Markus Schulz Reconstruction)
· Sassot – Where It All Begun (Markus Schulz Reconstruction)
· Yilmaz Altanhan – Eighties (Markus Schulz Big Room Reconstruction)
· Depeche Mode – A Pain That I'm Used To (Jacques Lu Cont Remix / Markus Schulz Reconstruction)
· Group Therapy – Thumbsucker vs. Andy Ling – Fixation (Markus Schulz Mashup)
· Viscid – Pimperish vs. Andy Moor – Halcyon (Markus Schulz Mashup)
· Above & Beyond vs. Andy Moor – Air For Life (Markus Schulz Big Room Reconstruction)
· Paul Nova – Cordoba vs. Whiteroom – The Whiteroom (Markus Schulz Mashup)
· Simon & Shaker – Zero (Markus Schulz Big Room Reconstruction)
· Duderstadt – Muhanjala (Markus Schulz Reconstruction)
· Coburn vs. Dumb Blonde – Sugar Lips (Markus Schulz Reconstruction)
· Cape Town – Proglifter vs. Alex Stealthy – Mystique (Markus Schulz Mashup)
· Antidote – Transcentral (Markus Schulz Big Room Reconstruction)
· Kyau vs. Albert – Kiksu (Markus Schulz Reconstruction)
· Nature Life – Nature Life vs. Jose Amnesia vs. Serp – Second Day (Markus Schulz Mashup)
· Nick Thompson – Once Upon a Time (Progressive Mix) w/ Ferry Corsten – Beautiful (Acappella)
· Bodyrox – Yeah Yeah (D. Ramirez Remix / Markus Schulz Rework)
· Kosmas Epsilon vs. Way Out West – The Moon, The Stars and Innocent Thoughts (Markus Schulz Mashup)
· Airwave – 8Bitz vs. David West – Make U Mine (Dub) (Markus Schulz Mashup)
· Iilka – Northern Lakes w/ Röyksopp – What Else Is There? (Acappella)
· Evolution – Noiseburst (Markus Schulz Rework)
· G-Spott Presents Vinyl Session – Session 6 vs. Sander Van Doorn – Pumpkin (Markus Schulz Mashup)
Newsy związane z tym artystą