KONEKT invites Norbak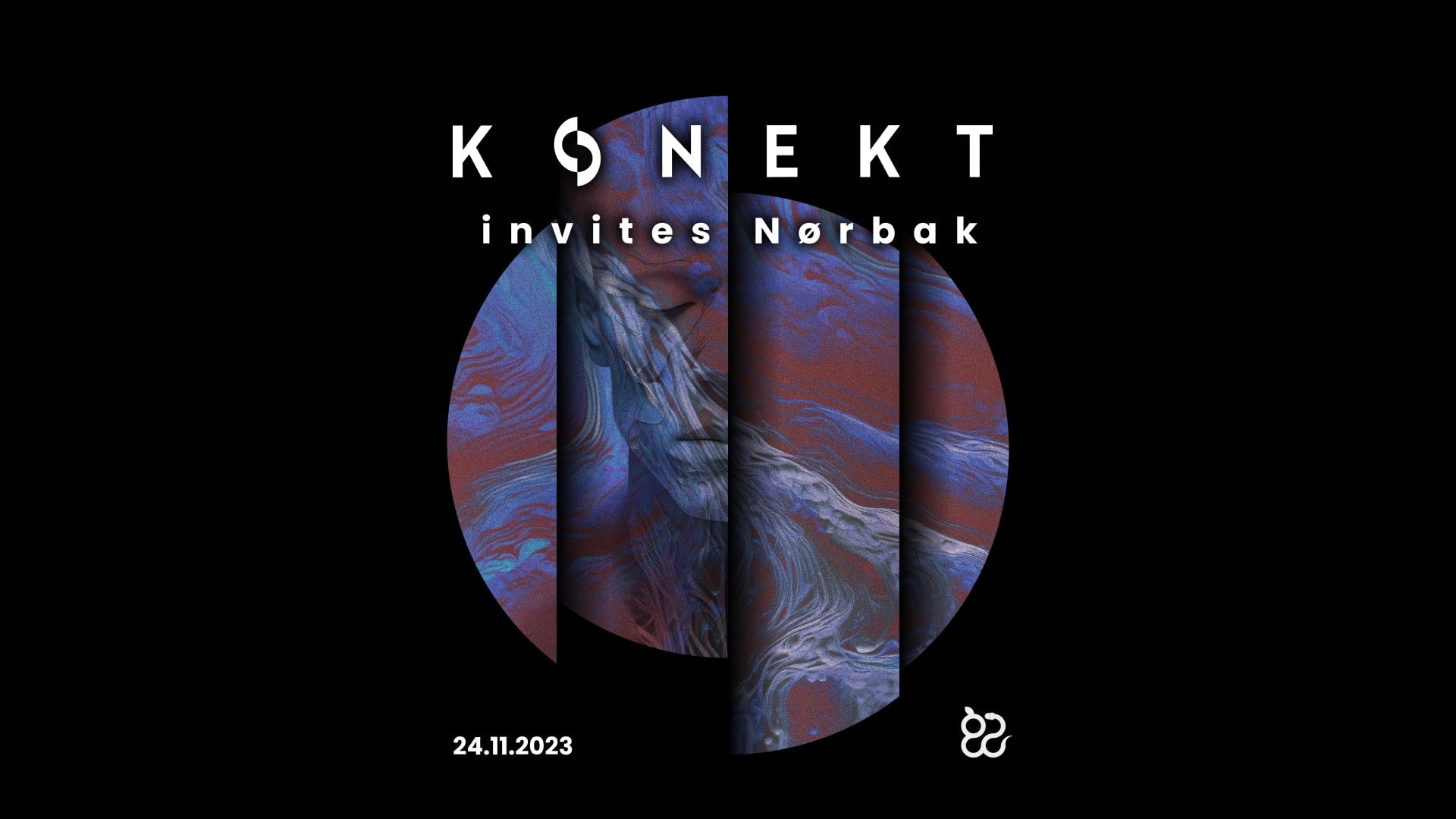 Piątek, 24 listopada 2023
godz: 23:00
---
𝐌𝐔𝐒𝐈𝐂 | 𝐕𝐈𝐁𝐄 | 𝐔𝐍𝐈𝐓𝐘 | 𝐉𝐎𝐘 | 𝐀𝐑𝐓
[ENG below] Odpoczęliśmy po drugiej edycji festiwalu i wracamy do Was z wydarzeniem klubowym, w powiększonym składzie. Szeregi KONEKTu wzmocnił niesamowity duet Sym8ioza, który w Chociczy zachwycił nas wszystkich produkcją fantastycznych dekoracji, zewnętrznej sceny z hipnotyzującym okiem oraz swoją cudowną energią. W klubie Ciało, Magdalena i Daniel zadbają o dekoracje na tak zwanej "Kuchni".
Prosto z Porto w Portugalii przyleci do nas Nørbak. To przedstawiciel tamtejszej sceny techno, producent i DJ, który łączy klasyczną wizję gatunku z nowoczesnym sound designem. Jego utwory zyskały światowe uznanie wśród artystów i labeli takich jak Soma Records, Warm Up Recordings, czy Mord. Artur współtworzy też kolektyw i label Hayes, wraz z CRAVO, Temudo i VIL'em. W piątek 24go listopada Nørbak zagra we Wrocławiu po raz pierwszy.
Jak już pewnie wiecie, KONEKT na muzyce się nie kończy. Oprócz dźwięków elektroniki wybrzmiewających na dwóch scenach, możecie spodziewać się: dekoracji, wizualizacji oraz wystaw. Na mainie zaświeci dla Was Afterglow oraz zaproszony przez niego VJ Optical. Więcej szczegółów odsłonimy w najbliższych tygodniach, a całość dopiero w Ciele. Do zoba!
•𝐑𝐎𝐎𝐌𝟏•
Nørbak
Pat-Mur [Patron b2b Minna Murra]
Roksana
Vi
VJs: Afterglow & VJ Optical
•𝐑𝐎𝐎𝐌𝟐•
5DzienTygoodnia b2b SzutamM
RDK
yulz
~~
We took a break after the second edition of the festival and we are coming back to you with a club event, with an enlarged crew. An amazing duo Sym8ioza is now part of KONEKT. In Chocicza, they delighted us all with the production of fantastic decorations, an external stage with a hypnotising eye and their wonderful energy. At Ciało, Magdalena and Daniel will take care of the decorations in the so-called "Kitchen".
We invited Nørbak, who will come to us straight from Porto in Portugal. He is a producer and DJ, who combines the classic vision of techno with modern sound design. His tracks have gained worldwide recognition among artists and labels such as Soma Records, Warm Up Recordings, and Mord. Artur also co-creates the Hayes collective and label, together with CRAVO, Temudo and VIL. On Friday, November 24, Nørbak will play in Wrocław for the first time.
As you probably know, KONEKT is not only about music and partying. In addition to the electronic music sounds on two stages, you can expect: decorations, visualisations and exhibitions. We will reveal more details in the coming weeks. See you soon at Ciało!
Resident Advisor: https://ra.co/events/1800102
___________________________________________
rules:
no means no
be kind to your neighbours
no pre-sale
doorman has the final say
no photos on the dancefloor