SCHISSMA: Seventh Edition with DON WOEZIK (SE), ALT8 (IE) and Schissma Residents (T Y, SCHELLT,VRAX)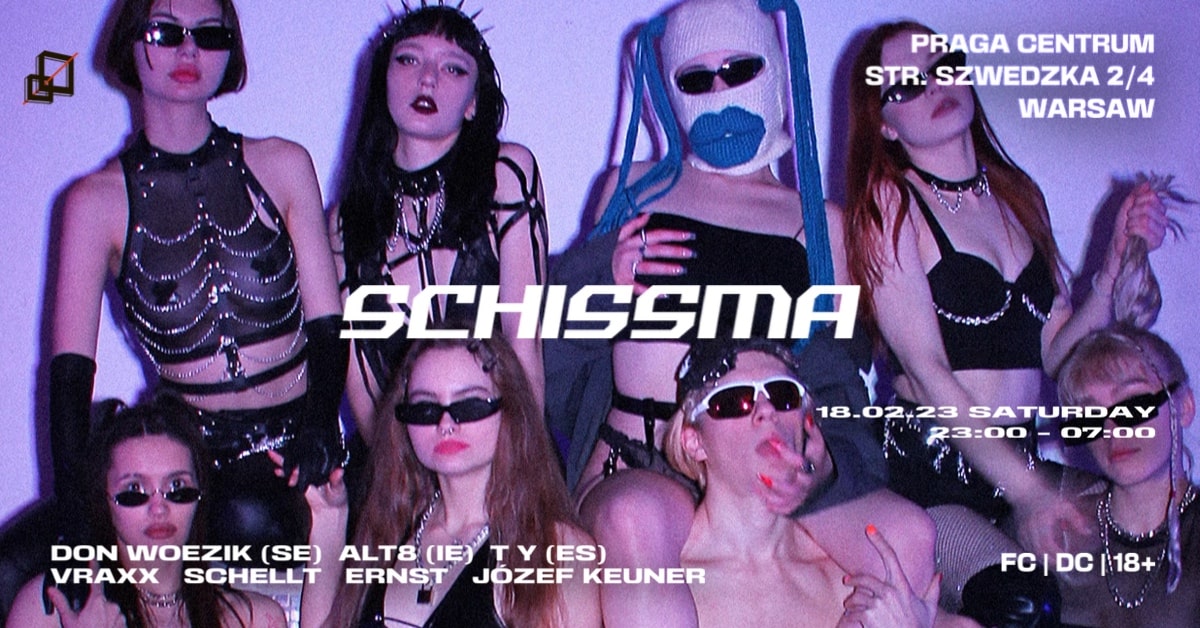 Sobota, 18 lutego 2023
godz: 23:00
---
Pamiętaj – na Biletomat.pl Twoje zakupy są bezpieczne. Jeśli dojdzie do zmiany daty lub odwołania wydarzenia, będziesz mógł spokojnie uzyskać zwrot, a o wszelkich aktualizacjach poinformujemy Cię mailowo.

***
(hard techno)
——————————————————————-
At 7th Edition of Schissma we again opening the gates of Praga Centrum for you. We are preparing spectacular party to show how the hard techno rave is supposed to be done! We want to give you a chance to enjoy breathtaking vibe of the Schissma again.
Prepare yourself for Saturday night full of incredible emotions. Prepare your amazing techno outfits and get ready to experience the energy beyond your beliefs.
Remember, Schissma is the place where you don't have any boundaries, this is the place where we value your individuality, and this is the place where you can feel free and safe.
This time Schissma have invited two headliners Don Woezik and Alt8, who will also be joined by our beloved Schissma Residents.
Our special guests for this event are:
Don Woezik – Dutch-born artist Don Woezik is an undeniably talented Techno artist on the rise. Based in Malmö, Sweden, Don's work has become commonplace in the tracklists of many of the genre's leading names, as well as featuring on an increasing number of well-respected global electronic imprints.
Alt8 – his taste for a myriad of genres mean that his DJing stylings incorporate multiple sectors of music, mixing between 'moments' as opposed to just 'music'. On a given day, anyone who will see him perform can expect a collection of industrial, groove, rave or big melodies – all fused with distinct hard techno drums to create a uniquely memorable atmosphere.
 ——————————————————————-
LINE-UP:
DON WOEZIK (SE)
ALT8 (IE)
T Y (ES)
SCHELLT
VRAXX
ERNST
JÓZEF KEUNER
STAY SAFE. NO RACISM. NO SEXISM. NO HOMOPHOBIA. ENJOY LIFE. RESPECT OTHERS. FC | DC | 18+

Zamów bilety już teraz na Biletomat.pl!
SCHISSMA: Seventh Edition with DON WOEZIK (SE), ALT8 (IE) and Schissma Residents (T Y, SCHELLT,VRAX) | 18 lutego 2023 Sobota, Praga Centrum
Jak kupić bilet?
Po kliknięciu "Kup bilet" przeniesiesz się do strony internetowej oficjalnego dystrybutora biletów i na jego stronie dokonasz zakupu.
Bezpieczne zakupy u oficjalnych dystrybutorów
Zakup biletu odbywa się na stronie oficjalnego dystrybutora biletów. Pamiętaj o tym, że jeżeli miejsca są numerowane, a bilety sprzedaje kilka firm, to każda z nich udostępnia inną pulę miejsc do wyboru.