Art Weapon x Jasna 1: Displaced Culture [charity event]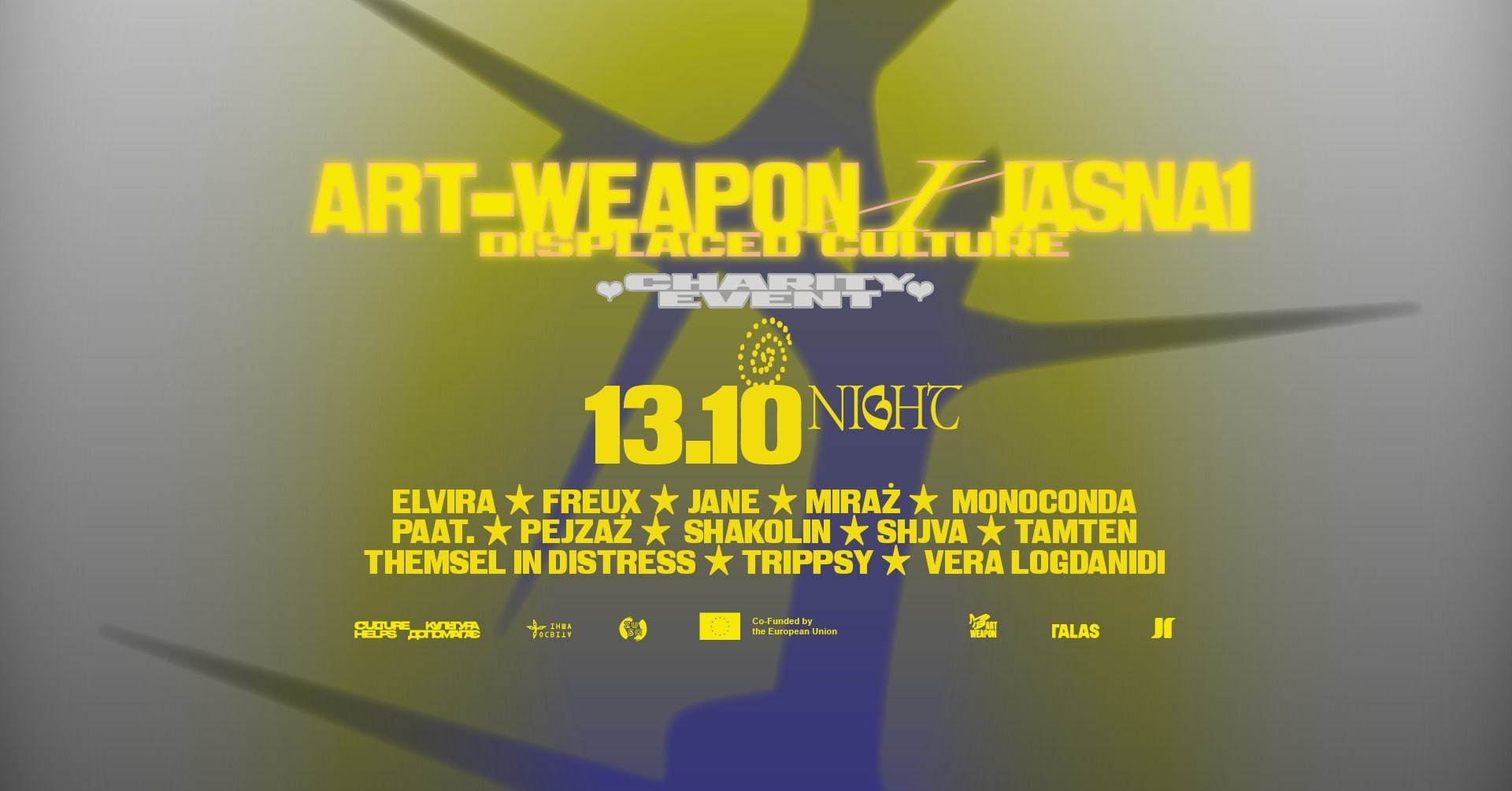 Piątek, 13 października 2023
godz: 23:00
---
Join us for an exciting collaboration, where we combine forces with Art – weapon! Ukrainian contemporary art festival, to shine a spotlight on the vibrant Ukrainian electronic music scene. Get ready to immerse yourself in the electrifying sounds of the representatives from Closer, Lucyna Records, penumbrum, Polygon Records and Rhythm Büro.
This event is a fusion of culture, recognition of resilience, and an act of solidarity. Your presence and support will make a meaningful difference. See you there.
Entrance: charity fee 20 PLN +
All donations will go to the selected organisation to support Ukraine.
We meet again on October 15th. First things first, grab your ID, head to the polls and VOTE! And when you're done, slide on over to Jasna 1 for an epic one-day charity ГALAS that's part of the 'Displaced Culture' event. (More info on a separate event).
MAIN
✦ Jane
SC: soundcloud.com/jjaanneee
✦ Monoconda LIVE
SC: soundcloud.com/user-694847048
✦ Paat.
SC: soundcloud.com/paatttttt
✦ Vera Logdanidi
SC: soundcloud.com/veralogdanidi
BAR ROOM
End Of That World release party – Lucyna Records soundcloud.com/lucynaorg
✦ freux
SC: soundcloud.com/freux
✦ Miraż
SC: soundcloud.com/miiraz
✦ Pejzaż
SC: soundcloud.com/djpejzaz
✦ TAMTEN
SC: soundcloud.com/tamtenmat
✦ themsel in distress
SC: soundcloud.com/themselindistress
SECRET ROOM
✦ Elvira
SC: on.soundcloud.com/irTi2
✦ Shakolin
SC: on.soundcloud.com/Xye5H
✦ shjva
SC: on.soundcloud.com/fgz2d
✦ Trippsy
SC: soundcloud.com/user-969448548
Artwork by Vlad Boyko
Culture Helps / Культура допомагає" is a project co-funded by the European Union under a dedicated call for proposals to support Ukrainian displaced people and the Ukrainian Cultural and Creative Sectors. The project is a cooperation between Insha Osvita (UA) and zusa (DE).
#culturehelps
__________________________________
3 DANCEFLOORS & NO RULES EXCEPT:
NO RACISM
NO SEXISM
NO HOMOPHOBIA
NO FLASHLIGHT
RESPECT OTHERS
ENJOY LIFE
STAY SAFE
www.jasna1.com